We decided to set a new standard in Comfort Measurement: see the new HD32.3TC and HD32.3TCA. PMV/PPD, turbulence, draftrate now combined with CO2 and PM measurement!
Completely according to ISO 7726, ISO 7730 and ISO 7243. With new possibilities and much more information.
A bright and clear touch display allows the calculated values for WBGT, PMV/PPD and TU to be directly visible. The data are immediately available via "cloud" application accessible remotely via Wi-Fi connection. The data logger has a large memory capacity for long lasting measurement cycles. Moreover, the rechargeable battery guarantees a working autonomy of at least 24 hours.With integrated voice recording and camera to include voice and visual comment during the measurements in order to be able to identify quickly and easily the specific measuring places.
ISO7726, ISO7730 and ISO7243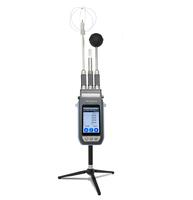 Search
Sign up for the newsletter
Best viewed products
Your shopping cart