Measure LUX - conventional light or LED without any adjustments
Simply best: newly introduced kit LLM-BK and LLM-AK (Basic and Advanced Kit). Can be used for any kind of light measurement.
These new Kits are available now: both complete with all you need.
The Basic Kit has a simple handheld meter connected to the measurement cell: connect and read.
The Advanced Kit has the possibility to log data and to diplay and report the data through the free downloadable software.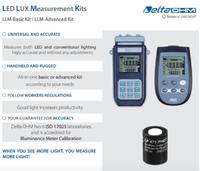 Search
Sign up for the newsletter
Newest products
Your shopping cart