Meteorological data: easy to collect and simple to transfer to Cloud or secured server. The HD33 Meteo datalogger serie with integrated GSM modem provides it!
Specially designed for Meteorological applications. To collect the data from measuring devices, like: Pyranometers, Raingauges, Wind Sensors, Temperature sensors or Humidity sensors. Thanks to the low power design the loggers can be used in practically any situation. Made to operate on solar energy.
The broad range of dataloggers that Delta OHM provides has again been extended. The HD33 series: the new 'plug & play' dataloggers are simple to set up and easy to use.
The loggers are designed to operate in outside conditions on remote locations. Low power design: a small solar panel is enough to keep the system alive!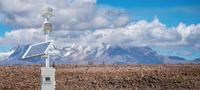 Search
Sign up for the newsletter
Newest products
Your shopping cart