Pressure measurement, differential pressure measurement: continuous pressure measurements in pipes or in open space. Gauge pressure measurements.
Whether it comes to absolute pressure, differential pressure or gauge pressure Delta Ohm offers a wide range of possibilities for measuring.
The difference between absolute pressure, gauge pressure, vacuum and differential pressure? Look here.

HD3604Tand HD36V4T are pressure transmitters with microprocessor and current (4...20mA) or voltage (0...5V, 1...5V or 0...10V) output, respectively. The sensor, piezoresistive,is insulated and allows gas and liquid pressure measurement over a wide range of temperatures.
The measured pressure is relative to atmosphere. The different models cover the scales from 100mbar to 600bar.

The HD408T is a series of gauge pressure transmitters: differential pressure transmitters (differential pressure relative to atmospheric) and relative pressure transmitters.

These transmitters can be used in the following applications: non-corrosive air or gas measurement from 10 mbar to 2000 mbar. The piezo-resistive sensor provides highly accurate and stable measurements with excellent repeatability, low hysteresis, and a very good temperature stability. Standard output signals 4-20mA or 0-10VDC.




The HD404T transmitter series is particularly suitable for use in clean rooms, data centers and general filter monitoring. This low range differential pressure transmitters measure relative pressure or differential pressure (depending on the chosen type) from a very low range of -50 to 50 Pascal up to a maximum range of -1000 to 1000 Pascal.


For continuous measurement of barometric pressure, the HD9408 series can be used.

HD9408TBARO and HD9408TRBARO are electronic barometers with an analog output. The piezoresistive sensor element provides highly accurate and stable measurement and ensures excellent repeatability, low hysteresis and a good temperature stability.


Besides the mentioned transmitters for measuring pressure and differential pressure, we also offer a wide range of solutions in the field of portable pressure gauges. Go here for the portable instruments.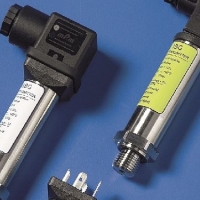 Search
Sign up for the newsletter
Newest products
Your shopping cart