You are here:
Delta OHM
»
Products
»
Multifunctional
» Hd50 datalogger measure and log your measurements through ethernet wifi radio frequency web datalogger to measure and log any measurement signal standard temperature humidity co2 cloud storage local d
HD50 - Datalogger, measure and log your measurements through Ethernet, WiFi, Radio Frequency. Web datalogger: to measure and log any measurement signal. Standard Temperature, Humidity, CO2. Cloud storage, local database storage
Product Information
With the HD50 it is possible to start from 1 logger and extend it to a practically unlimited network of loggers. The HD50 settings can be opened from a web browser, as it has a built-in webserver. This way it is also possible to monitor the actual measurements.
Delta OHM already has the HD35 serie, based on RF communication. In some cases when networks are very wide or complex or divided into more than 1 building, a mix of cabled, WiFi and Radio Frequency loggers can be the best solution.
The HD50 series have the possibility to be integrated in such hybrid networks.
We supply user friendly software that is free of charge.
Your data can be stored on a local PC or Server (MySQL database) or you can easily access your data from anywhere with our Cloud solution.
We are happy to assist you in finding the best solution for your measurement challenge! Mail or call us.
Downloads
Product specific downloads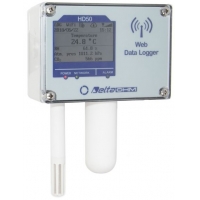 Request price information
Product type
Measurement Principles
Search
Sign up for the newsletter
Best viewed products
Your shopping cart