DO9404 - Panel indicator and regulator 96x96. Relais, RS232.
Product Information
The DO double indicator controller 9404 is an instrument for panel with LED 96x96 microprocessor with programmable alarm thresholds and user-configurable.
Accepts two-channel input signals from two separate transmitters or transmitters by a double. The transmitters can be 2 wires, passive, or 3 wires, active both in tension 0 to 1 V, 0 to 5 V, 0 to 10 V DC 0 to 20 mA, 4 to 20 mA.
Configurability for both input channels is always present in the instrument requires no add-on cards.

The choice of configurations for input signals is via the keypad on the front of the instrument. The DO 9404 is equipped with RS232C serial output, the baud rate is configurable from the keyboard, the command is bidirectional, the output connector SUB D 9 pin female. The dimensions of the instrument are in accordance with DIN 45700 96x96 mm, depth 120 mm. The operating mode of the DO 9404 is chosen depending on the application by configuring the instrument from the keyboard. With ease you can configure the instrument in the field to adapt to changing process requirements.
The configurability regards inputs, extension ladders, set points, alarms and the baud rate.
Applications:
A typical application of the DO 9404 is the display and regulation of signals arriving from passive 2-wire or active 3-wire transmitters, of any physical quantity: temperature, humidity, pressure, speed, level, etc. for a wide variety of industrial sectors and automation.
Example:
Downloads
Product specific downloads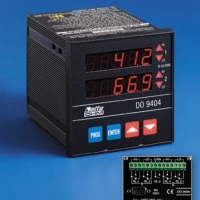 Request price information
Product type
Measurement Principles
Search
Sign up for the newsletter
Best viewed products
Your shopping cart