You are here:
Delta OHM
»
Products
»
Air and wind speed
» Hd53ls hd53lsa hd53lss ultrasonic low range 2d anemometer windspeed and winddirection available with modbus communication or analoge output range 0 50m sEC no moving parts
HD53LS, HD53LS.A, HD53.LS.S - Ultrasonic low range 2D anemometer, windspeed and winddirection. Available with Modbus communication or analoge output. Range 0-50m/sec. No moving parts.
Product Information
This instrument measures Wind speed and direction, Wind Gust (only in version with RS485 MODBUS-RTU output).
Available in 2 versions, noth very rugged and low maintenace (no moving parts!):
• HD53LS.A: with two analog outputs (one for wind speed and one for wind direction), factory configurable among 4…20 mA (standard), or even with 0…1 V, 0…5 V, 0…10 V (to be specified when ordering).
• HD53LS.S: with RS485 MODBUS-RTU output.
Advantages of ulktrasonic anemometers and especially of the HD53LS series:
• The absence of moving parts minimizes maintenance.
• High sensitivity for detecting very low speeds, which are not detectable by traditional methods.
• Fast and easy installation (on ∅ 40 mm mast, optional tripod available).
• The low power of the instrument allows installation in remote sites, with power from solar panel and battery.
• The version with RS485 MODBUS-RTU output allows instrument networking.
Downloads
Product specific downloads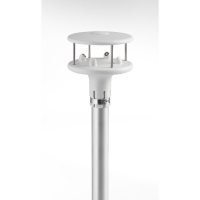 Request price information
Measurement Principles
Search
Sign up for the newsletter
Newest products
Your shopping cart